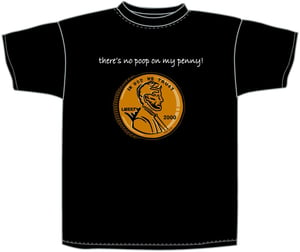 $

5.00
A quick and easy way to take a complete stranger (or friend) to the Gospel in one minute without being pushy.
Have you ever picked up a penny?
Would you pick up a penny in a toilet or the bottom of a trash can?
Me neither because I would hate to do those things more than I would love to get the penny.
If you went outside and saw some fresh dog poop with a penny sticking out, would you take it? Of course not!
Now suppose this room (or wherever you happen to be is filled completely with fresh dog poop and there is a penny somewhere in the middle. The penny is you and the poop is your sin. God is repulsed by the smell and site of it, just like you would be of the poop.
The difference is that He loves you more than He hates your sin. If you ask Him, He will wade through it all clean you off and add you to His collection.
Acts 3:19 "Now repent of your sins and turn to God, so that your sins may be wiped away."
100% sales from this product will be used to fund my wife and my mission trip to India this summer.